Lakers
Laker News: LA Wins Seventeenth NBA Title, First Since 2010
It's been ten years since the Lakers last won an NBA title, and it's been seven grueling years since their last playoff appearance. However, they were able to end both droughts in an otherwise unusual year. 
Coming into the year they were pegged as co-favorites to make it to the Finals representing the West and had one of the best shots to win it all. After cruising to the best record in the West and the second-best in the league, the Lakers drew criticism for their sluggish performance to restart the season in the bubble.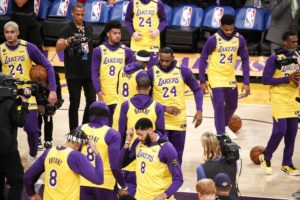 However, they put all concerns to rest as they started knocking teams out of the playoffs left and right. It first started with the red hot Portland Trailblazers who fought their way into the playoffs only for the Lakers to show them the door. LA then took on the Houston Rockets who forced them to play small in order to shut down their offense. In the Conference Finals, the Lakers had to deal with the comeback kids (Denver Nuggets), who had extended their season after being down 3-1 in back-to-back series.
JOB'S FINISHED: YOUR LOS ANGELES LAKERS ARE NBA CHAMPIONS pic.twitter.com/Dnxtgt9i1d

— Los Angeles Lakers (@Lakers) October 12, 2020
Finally, the Miami Heat were the last obstacle that stood in between them and the Larry O'Brien Trophy. Even though the Heat gave the Lakers all they could, at the end of the day it wasn't enough to stop a team that had its sight locked on one thing, an NBA Title. With production from everyone up and down the roster and possibly a little help from the Black Mamba himself, the Lakers brought a title back to Los Angeles once again. In a year that has been filled with so many devastating events, 2020 will at least have a shining element to it now.